Special thanks to Northside business co-owner Ashley Marie Bowman of Casablanca Vintage, for compiling this guide.
ARCADE LEGACY: BAR EDITION (Hot Dogs and Arcade Bar)
Their pre-made vegan hot dogs are the Vegan Chili Dog and Vegan Legacy Dog. You can order any "haute dog" on their menu with a vegan dog, and remove any of the non-veg toppings. Build your own if you don't love their pre-made creations. Toppings include veggie baked beans, kimchi, sauerkraut, and various types of mustard and ketchup. You can even get vegan nachos here… with black beans and substitute guacamole for cheese at no extra charge. They also have a vegan 3-way coney, if you please.
BISTRO GRACE (Fancy Sit-Down)
Hummus is clearly a great vegan choice for starters. There is an array of veggie side dishes that I'm sure they would prepare vegan if asked. For the tuna and salmon entrees, they are happy to substitute tofu for the fish. The calamari dish can be made vegan by swapping out the calamari rings for tofu, creating a delicious quinoa dish. The Marinated Artichokes and Herbed Linguine are both vegan without the herbed cheese.
THE BLUE JAY RESTAURANT (Diner Fare)
The California Veggie Burger is vegan. They will make you diced potatoes with veggies on the grill or even make you a veggie pita sandwich.
BRIDGES NEPALI CUISINE (Nepalese Cuisine)
I am in love with their "Aloo Wala," which is spicy chilled potatoes. I get this dish in a bowl with basmati rice, pea soup or lentil soup, and with a side of the veggie mix (which includes mild carrots, peas, potatoes, and cabbage). Mixing it all together with the spicy potatoes is a good idea if you don't like too much spice. Grab a side of marinated black eye peas, sour bamboo shoot salad, vegan samosas with sweet sauce, or flatbread. My go-to side is the marinated spicy mushrooms, but they're all tasty! Top each dish with your choice of spicy or mild salsa.
CHAMELEON (Bar with Pizza)
Currently their only vegan option is pizza with no cheese. They always have a vegetable of the day pizza slice option, too. They have french fries, but expressed they are fried in the same fryer as their wings. They mentioned to me that, due to popular demand, they are planning to expand the menu to be more vegan-friendly.
THE CHOCOLATE BEE (Chocolats Latour + Bee Haven)
Most of the dark chocolate bars are vegan, the only exception is the "Bubba Bar" which has bacon salt. So that leaves around 10 flavors that are vegan! Chocolats Latour always try to make at least one seasonal item vegan, for fall it's the "Smoking S'more" which uses vegan graham crackers and vegan marshmallows! They will make any truffle vegan if you order at least 24 of them. Sidenote, this shop also sells bee-related products from Bee Haven, a honey and beeswax-centric company.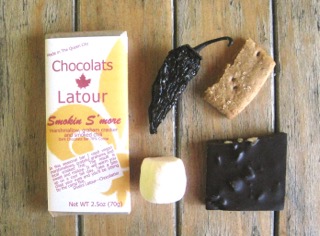 COLLECTIVE ESPRESSO (Coffee Shop)
As my go-to morning routine coffee stop, I rotate between iced and hot versions of soy lattes and Americanos mostly, but I sometimes order a cold brew or a soy matcha latte. Their other non-dairy milk option is almond milk. Rumor has it that if you bring in your own coconut milk, they will steam that for you in your drink. You can also get espresso shots in a lemonade or San Pellegrino!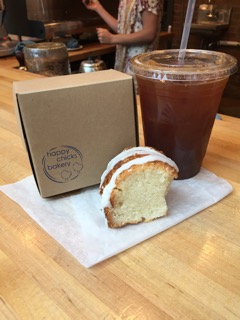 THE COMET (Bar with Burritos, Tacos, and Sunday Brunch)
Build your own burritos, tacos, or even a beans and rice bowl with veggies. Sometimes the "protein of the month" is a creative tofu option, such as the coconut curry tofu, which is the absolute bomb; however, please note their famous house-made jerk tofu is made with honey. I sometimes order the salsa sampler as a meal, it comes with servings of guacamole, mild, medium, hot, and salsa of the month… all fresh, delicious, and ultra-garlicky. Beware, the hot salsa is actually really hot! Be sure to say "no cheese, no sour cream" for everything you order. Sunday brunch offers a creative menu by local chef Robert Kochanowski and there is always at least one vegan option.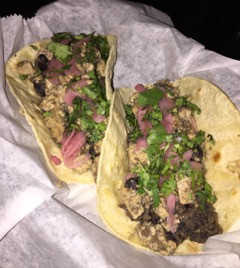 DJANGO WESTERN TACO (Mexican Inspired Creative Fare, Breakfast, Lunch and Dinner)
The eggplant enchiladas is a dish that doesn't need to be specifically ordered as vegan. It's roasted eggplant, pinto refried beans, wild rice, and red sauce. It's topped with radishes and dried carrot. My friend got a taco that is also vegan, with squash, quinoa, broccoli, and mushrooms. Some items that could be made vegan are a quesadilla without cheese, a side of rice and beans, and the two aforementioned items.
DOJO GELATO (Desserts)
The gelato itself is not vegan, but their sorbetti is! Have it plopped into some fizzy San Pellegrino mineral water for a "Stiletto" float style beverage. Espresso drink options available as well!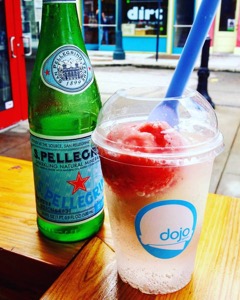 GOLDEN TAJINE (Mediterranean Fare)
Falafel! They call the vegan version "Valafel." Get it on a pita wrap sandwich, in a sampler, or in a salad. The dolmas (stuffed grape leaves) are a favorite of mine, as a side with my sandwich or as a quick snack. They also make a dolmas sandwich on pita. Be sure to tell them you don't want feta or tzatziki sauce, and instead request tahini sauce or a non-menu dressing that is made from olive oil, lemon, and herbs. If you're a heat lover you can get some spicy red chili pepper sauce on the side as well. Their pita and hummus is ace or you can opt for baba ghanoush. Their lemon-parsley Greek fries are delicious without feta, and I even dip them in the hummus! They have other veg sandwich options such as an artichoke wrap, the Casablanca wrap, and the Med wrap. Platters are also available—the artichoke and zucchini with rice, hummus and pita, or the vegetarian sampler that comes with a mixture of all of the good sides and bread. It feeds 4-6 of you vegans!
THE HAMILTON (Fancy Sit-Down, Small Plates)
The Stuffed Falafel is a giant falafel with veggies inside and crispy pita on the side. Be sure to tell them you are vegan, because despite the menu saying it's vegan, the sauce they drizzle on top is not. The Summer Salad has marinated tofu on top of it. The Vegan Charcuterie has different tofu cure flavor options, pickled veggies, and delicious olives. It comes with bread on the side. The Eggplant trio has eggplant in 3 ways for eggplant lovers!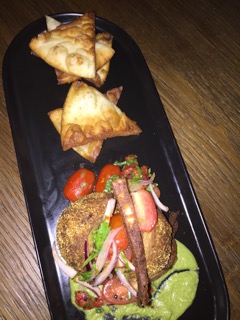 HAPPY CHICKS BAKERY (Desserts, Breakfast, Lunch)
This all-vegan bakery has cinnamon rolls, teacakes, cookies, brownies, tarts… literally any pastry you've been missing since turning vegan. And vegan donuts on Saturdays! There is a whole case of cupcakes here, ranging from fancy to super fancy, with creative toppings and complex flavors combinations. Some of my favorites include: Grapefruit Poppyseed, Chunky Monkey, and Lemon Rose. There are gluten-free options as well! Whole cheesecakes and pies are available to order, and they even make custom wedding and event cakes! But it doesn't stop with the desserts, they also have a cafe menu that features delicious sandwiches including a breakfast sandwich with tofu frittata, and my favorite sandwich, "The Greens," which has a healthy assortment of greens and a tangy Fab Ferments zip. Add some soup or salad to that sandwich for a complete vegan meal. Other savories include empanadas, chickpea nuggets, quiche, and croissants. The croissants are to die for. Sometimes they mix chocolate into them, or a savory pesto. Heaven. They source from many other local business as suppliers.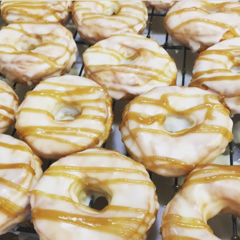 KITCHEN FACTORY (Pizza and Sandwiches)
This place is a vegan sandwich and pizza paradise! They carry Daiya brand vegan cheese and also make their own tofu crumble topping for their vegan veggie pizza. BBQ tofu and tempeh also available for an extra charge. Being open until 3AM on Friday and Saturday, it's a personal late night favorite of mine. I go with a slice of the vegan cheese pizza with Sriracha drizzled on top, and a side of their "crack and cheese" which is the most amazing vegan version of mac and cheese. It's oven-baked to order and crispy on top, and it's also gluten-free! They also have delicious sammies such as the vegan Reuben, "The Reubenator," and "Raw-Raw" kale salad which has toasted sesame massaged kale, a splash of Bragg's Liquid Amino Acids, with edamame and chopped veggies. They even have a vegan meatball sub, and the veggie burger can be made vegan upon request.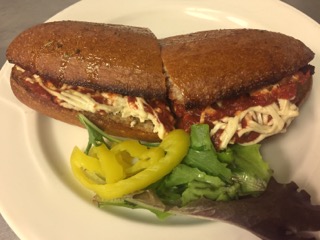 THE LITTLEFIELD (Bar with Fresh & Creative Small Plates, Weekend Brunch)
This little place is a bar/restaurant of small plates that change periodically and can be made vegan. For example, two items that have been on their menu, can be ordered to be made vegan with tofu replaced for meat—the Asian Pork Meatballs (the aioli is made from silken tofu!), and the Smoked Chicken dish (which would be replaced with tofu aside roasted cauliflower and a pickled radish salad). Other offerings are the garbanzo lentil crisps (the sauce has honey, ask for the crisps bare), house salad, and house pickles. I love the house pickles because the veggies vary each time I have them! Crunchy and snack-worthy. Also, for brunch they have vegan goetta.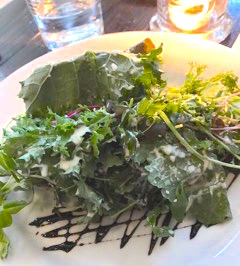 MELT ECLECTIC CAFE (Sandwiches, Soups, Salads, Weekend Brunch)
Melt is one of the few vegan friendly originals in Cincinnati. The menu is stacked with already vegan dishes or meals that can be made vegan. There is only one sandwich, the Artichoke Melt, and one dressing, the Curry Yogurt, that are not vegan. Substitute house-made vegan smokey cheddar cheese on sandwiches, or try it as a standout on pasta with their vegan Mac and Cheese. Add their famous vegan chili on top of that for an instant Chili Mac! Have the vegan chili alone, or they'll make you a Cincinnati style 3-way if you like, or a vegan version of Rudy's Nachos. The Avocado Bliss Wrap is my favorite sandwich on the menu, as the avocado with the smokey cheddar is a comfort food combo. The Pad Thai wrap with tofu is amazing too (I request extra peanut sauce on the side and dip it in Sriracha). Vegan protein substitutions are tempeh, tofu, or house-made seitan. My favorite salad dressing here is the Miso Caesar, it seriously does not disappoint. You won't miss the puréed anchovies, I promise. The (sometimes vegan) soup of the day, zesty slaw, and hummus with chips are yummy sides. Oh, and there is vegan chocolate pudding for dessert.
NORTHSIDE FARMERS MARKET (Food Trucks, Fresh Produce, Handmade Goods)
Local fruits, veggies, herbs, flowers, baking needs, pantry goods, tea, coffee… get it all here. You can also get baked goods from local bakeries and homemade soaps. You can even eat a meal here if you like because there are smoothies, tamales, pies, and snacks!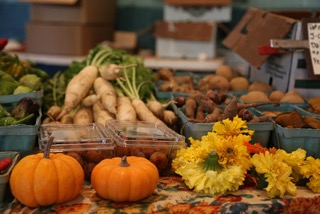 NORTHSIDE YACHT CLUB (Bar with Sandwiches, Fries, Weekend Brunch)
The Vegan Lentil Cheese fries are the bomb. Features spiced lentil chili over fries; you can get Daiya cheddar shreds on top and even add jalapeño and onion if you so choose. The fried broccoli is vegan. For sandwiches, the Sesame Banh Scott and Portobello Sandwiches are both vegan if you get them on sourdough bread with no aioli. The team at NSYC asks that vegans let them know when they order the sandwiches, so they can use olive oil instead of butter to toast the bread. Brunch offers a "Killer Tofu" dish and fresh fruit medley. This place will also make you a delicious mocktail if you're a sober vegan! They pride themselves on their mocktail abilities, for real.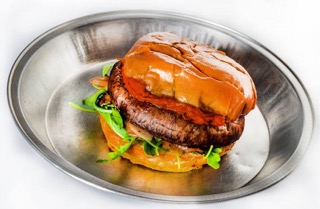 N.Y.P.D. PIZZA (Pizza and Sandwiches)
Their standard pizza crust is vegan and only has a few ingredients. They will put your vegan cheese and faux meat onto whatever you like if you bring it by! This place offers pick-up or delivery only.
RUTH'S PARKSIDE CAFE (Ethnic and American Fusion)
For starters, the Mediterranean Plate is a shareable, straight-forward sampler of Mediterranean favorites, featuring quinoa tabbouleh, hummus, baba ganoush, olives, and pita for scooping. The Olive Tapenade Bruschetta is another appetizer option if you order it without feta cheese. My favorite meal at Ruth's is the open-faced bagel. There are multiple ways you can take it, and 3 of the 4 options are vegan. I take mine with tempeh, grilled veggies (artichoke, pepperoncinis, tomato, olives) and douse it with the sesame soy dressing. You could opt for tofu as well, or even have this dish over brown rice instead of the bagel. You can add tofu or tempeh to any dish, or omit meat and cheese from their salads. Their veggie burger is vegan if you get it on rye bread. Other vegan dinner dishes include orange Szechuan stir-fry, pasta with tomato and herb sauce, linguine ratatouille with no butter, red beans and rice without dairy, and spinach sauté if you forgo the feta. Ruth's features a diverse menu for multiple palates if you and your dinner mates are craving different cuisines. Their homemade pies are vegan too! Ruth's even has a vegan suggestion page on their website.
SIDEWINDER COFFEE (Coffee, Breakfast, Lunch)
I love the muffins here! There are also vegan Rice Puff treats, cinnamon buns, breakfast burritos, and the Kitchen Factory's delicious Raw-Raw kale salad that you can grab and go in a jiffy. There are multiple vegan sit-down food options as well, such as a hummus plate and hummus sandwich, however the Black Bean Burger is not vegan as it contains egg whites. Request the sandwiches without cheese. They also have bagels that you can get with a side of peanut butter or hummus instead of cream cheese. I like that they sometimes have bialy too! There is a soup of the day which is frequently vegan. They carry granola and oatmeal here as well. Non-dairy milks include soy and almond. They have vegan chocolate drinks, and their latte options come creatively with nut and floral flavors, such as the Tikiccino (macadamia nut) and French Kiss (lavender). You can even get booze in some of these creative drink creations if you are of age. Fresh fruit smoothies are also an option here, the only place in Northside to do this! And also the only place where you can pet live bunnies in the courtyard awww!
TICKLE PICKLE (Burgers and Shakes)
Vegan burgers AND shakes! For the shakes, they use their own vegan ice cream that they make in-house… you can even buy a tub to take home! They have a featured flavor every month; my personal love is the fruity pebbles milk shake… literally like drinking frozen cereal. Their grilled portabella mushroom burger dubbed "When Buns Cry," and black bean burger "Buns and Roses" are cool vegan options. Even a miniature bean burger for your little vegan, called "Bean Day." There is even a veggie chili dog, and you can get a side of the vegan chili with anything. There are multiple other vegan sides, too! Tell them you're vegan and they will let you sub a side in place of their non-vegan slaw, choose from the sweet potato mash, side salad, fresh fruit, or pasta salad. Sometimes their special sandwiches of the month have vegan versions so follow their Facebook posts for updates. Apparently they are now making their own vegan cashew cheese and testing out a new fry recipe as well!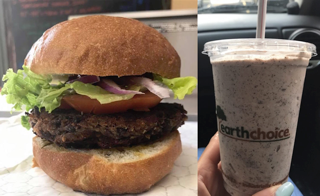 TACO BELL (Fast Food, Tacos)
My go-to Taco Bell order is a Black Bean burrito with no cheese, a 7-Layer burrito with no cheese and no sour cream, and a side of potatoes. I put those potatoes in the burritos with the fire sauce and it's sooo000ooo00oo good. You can also get a normal Bean Burrito with no cheese and a Power Veggie Burrito with no cheese, no sour cream, no ranch sauce. If you can get them to custom make some nachos or Mexican Pizza with beans, veggies, red sauce and guacamole, then go for it. A Power Menu Bowl or Fiesta Taco Salad with no meat and no dairy are possibilities as well. They have a spicy tostada that is vegan if you omit the cheese and chipotle sauce. Vegan friendly sides are rice, beans, or rice and beans, and tortilla chips with your choice of pico de gallo, salsa, or guacamole. Order a side of potatoes and it's less expensive than getting the Cheesy Fiesta Potatoes with no cheese or sour cream. They do have a button for it, don't let them tell you otherwise! Your only breakfast option is a hash brown.
WHITE CASTLE (Fast Food, Burgers, 24/7)
Vegan options are french fries, onion rings, and veggie slider with no sauce. They also sometimes have a limited time black bean burger that is vegan! Hash browns are an option for breakfast. Their oatmeal is vegan, but ask to make it with water instead of milk and go with the berry topping. The french toast sticks happen to be vegan, strangely enough.