Whether you want to start your Sunday with a caffeinated jolt, or sleep in and join friends for a late brunch followed casual shopping, Northside has plenty of Sunday Funday options for you!
FOR EARLY RISERS & CAFFEINE HOUNDS:
• Collective Espresso Northside opens Sundays 8am-5pm.
• Sidewinder Coffee opens Sundays 8am-10pm, with pastries, breakfasty & lunch items, and of course coffee!
---
REGULAR BRUNCHING IN NORTHSIDE:
• Boswell's – Cincinnati serves Sunday brunch starting at 11am and is open til 10pm.
• THE COMET serves Sunday brunch 11am-2pm, with a rotating menu of featured and favorite brunch dishes, prepared by chef Robert Kochanowski. Check their Facebook page early Sunday mornings for the brunch menu of the day. Occasionally the Comet Sunday brunch is set to music by a guest DJ or band, or accompanied by a comedy set produced by Bombs Away! Comedy (third Sunday of the month). Additionally, the regular Comet dinner menu is available 4pm-1am.
• Django Western Taco serves Sunday brunch starting at 11am, and is open til 9pm.
• Happy Chicks Bakery serves Sunday brunch 10am-1pm with a menu that changes every week. Check their Facebook page on Saturdays to see what's on the menu for next day's Sunday brunch.
• The Littlefield serves Sunday brunch 11am-3pm, and is open Sundays til 11pm.
• Melt Revival serves Sunday brunch 10am-2pm.
• Northside Yacht Club serves Sunday brunch 11am-3pm, and dinner 4pm-10pm.
• Second Place serves Sunday brunch starting at 11am, and is open til midnight.
• Socialtique Events: event based prix fixe ticketed champagne brunch buffet, check their Facebook page for special event details and ticketing info.
• Wildfire Pizza Kitchen at Urban Artifact tap room : breakfast menu is available all day on Sunday, 11am-8pm.
---
OTHER SUNDAY FOOD + BEVERAGE OPTIONS:
• Arcade Legacy : Bar Edition opens Sundays 2pm-10pm, with arcade games, pinball, hotdogs and a full bar.
• Bridges Nepali Cuisine opens Sundays 11am-8pm with their regular menu.
• C & D Northside opens Sundays at 1pm for 7 hours of happy hour, football & free food until it's gone, every Sunday!
• Higher Gravity opens Sundays at 12noon, and Melt Revival can deliver your brunch order to your seat at the HG bar, plus karaoke every Sunday 7pm-10pm.
• The Kitchen Factory opens Sundays 2pm-10pm with their regular menu of Vegan, Vegetarian, and Meat Lovers sandwiches, salads, and pizza by the slice. "We Luv Cooking For You!"
• Tickle Pickle Northside opens Sundays 11am-10pm with their regular burger menu.
---
LAZY SUNDAY BROWSING:
• Casablanca Vintage: open Sundays 12pm-5pm, offering 20th century men's and women's clothing and accessories.
• The Chocolate Bee: open Sundays 11am-5pm, home of Bee Haven, LLC and Chocolats Latour, you can sample their signature chocolate bars and local honey, and check out their selection of bee and chocolate gifts, and something sweet for everyone.
• Growing Trade Pet and Plant: open Sundays 11am-6pm, your local source for dog, cat, and backyard poultry supplies, and also catering to the urban farmer's needs for soil amendments, seeds, plants, books, and gear for preserving the harvest.
• Hemptations Three: open Sundays 12pm-6pm, offering a large selection of legal industrial hemp products including body products, food, clothes, bags, pet goods, hats, wraps, plastic, paper, jewelry and CBD Supplements… all made from industrial hemp. Hemptations also carries vaporizers, smokables, candles, incense, posters, books, detox, supplements and much more.
• Hi-Bred: open Sundays 11am-3pm, offering contemporary and vintage clothing and accessories, plus original artwork, and household goods.
• NVISION: open Sundays 12pm-9pm, offering fun and affordable vintage clothing, art, & furnishings, as well as an array of funky to fabulous secondhand & collectible wares. NVISION also offers clothing alterations and repair services.
• Shake It Records: open Sundays 12pm-6pm, nationally recognized local record store offering new and used music and books, plus band Ts, stereo equipment, stickers, cards, gifts and more.
---
OTHER REGULAR SUNDAY EVENTS:
• The Comet hosts the Comet Bluegrass All-Stars every Sunday night, performing 2 sets at 7:30pm and 9pm. Please note, it can get crowded for the bluegrass sets, so come early to get a table! After Bluegrass is another weekly Sunday program called SUNIGHT, featuring informal and sometimes-themed improvisational musical happening that takes place each Sunday night at 10:30pm.
• HERO GYM, in collaboration with the Littlefield, seasonally offers a free workout + free brunch drink Sundays at 10am. All ability levels are welcome! Drink cards must be used the same day. Limited supply of drink cards, first come first served. Check Hero Gym Facebook page for event dates and info!
• The Listing Loon: Wine/Booze/Live Music, starting October 6th, open Sundays at 2pm, with a wine and cheese pairing 2pm-5pm every Sunday, in partnership with Morsel & Nosh.
• MoBo Bicycle Co-op holds Open Shop on Sundays 2pm-5pm. Volunteers are available to help you learn how to fix your own bike, with all the tools and parts you might need to get rolling again. Don't have a bike? Don't worry, you can adopt one of their used bikes for a modest, pay-what-you can donation, and they'll help you get it back into top condition. Build skills, make friends, have fun: MoBo is above all a community space, and everyone volunteering there is doing so because they want to share their love of bikes with You, fellow Northsiders!
• Second Place: on Sundays during football season you can join in the potluck at Second Place, and bring your own protein for the grill, while enjoying the game on TV.
---
ONE OFF SPECIAL EVENT BRUNCH SUNDAY 10/6/19: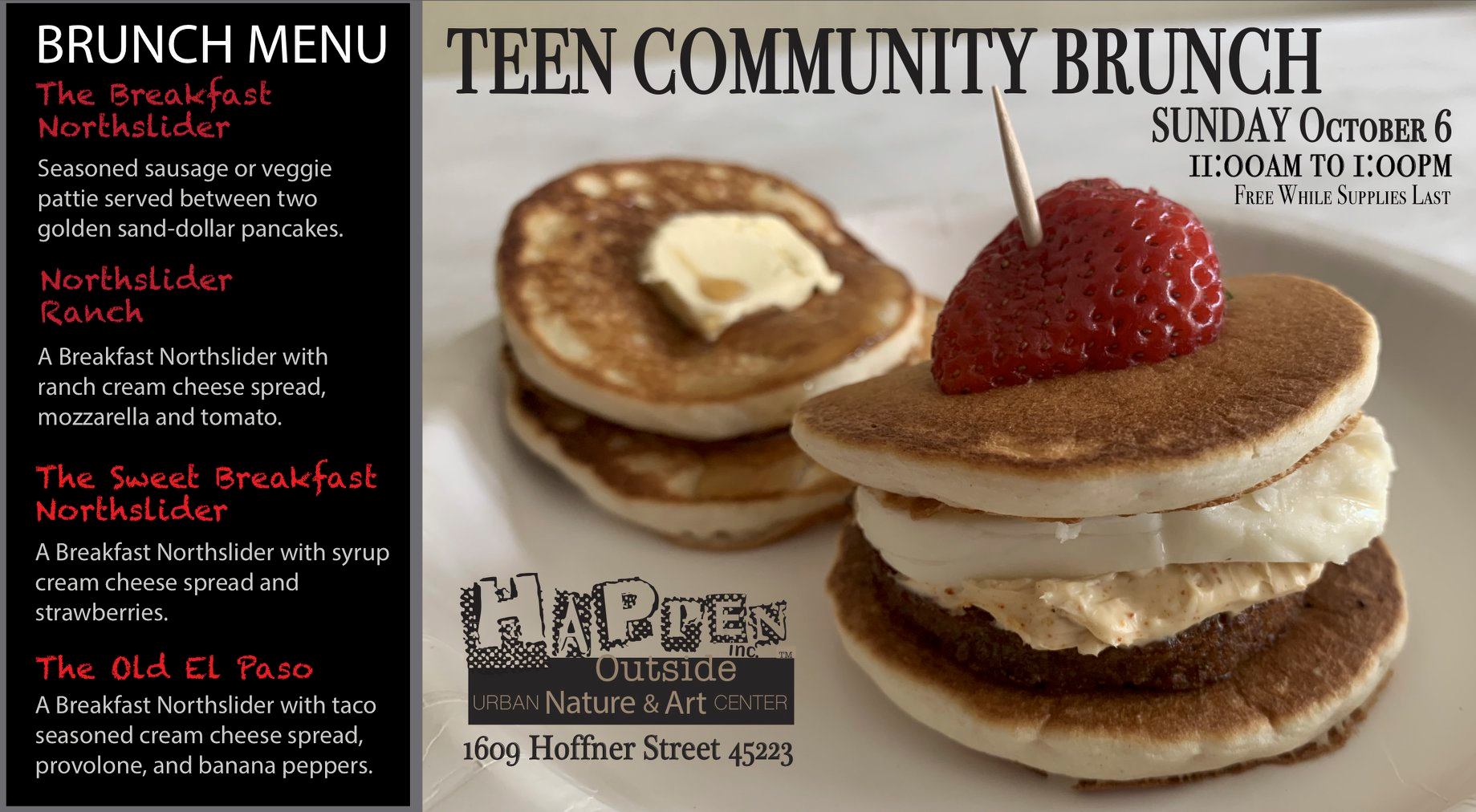 • Outdoor Community Brunch on Sunday, October 6, 2019, from 11am to 1pm, at Happen Outside Urban Nature & Art Center – 1609 Hoffner Street, 45223. Join in for brunch prepared and served by teens in Northside. Stop in Happen, Inc.'s Community Creative Center during Open Studio times and make your reservations for this free event!