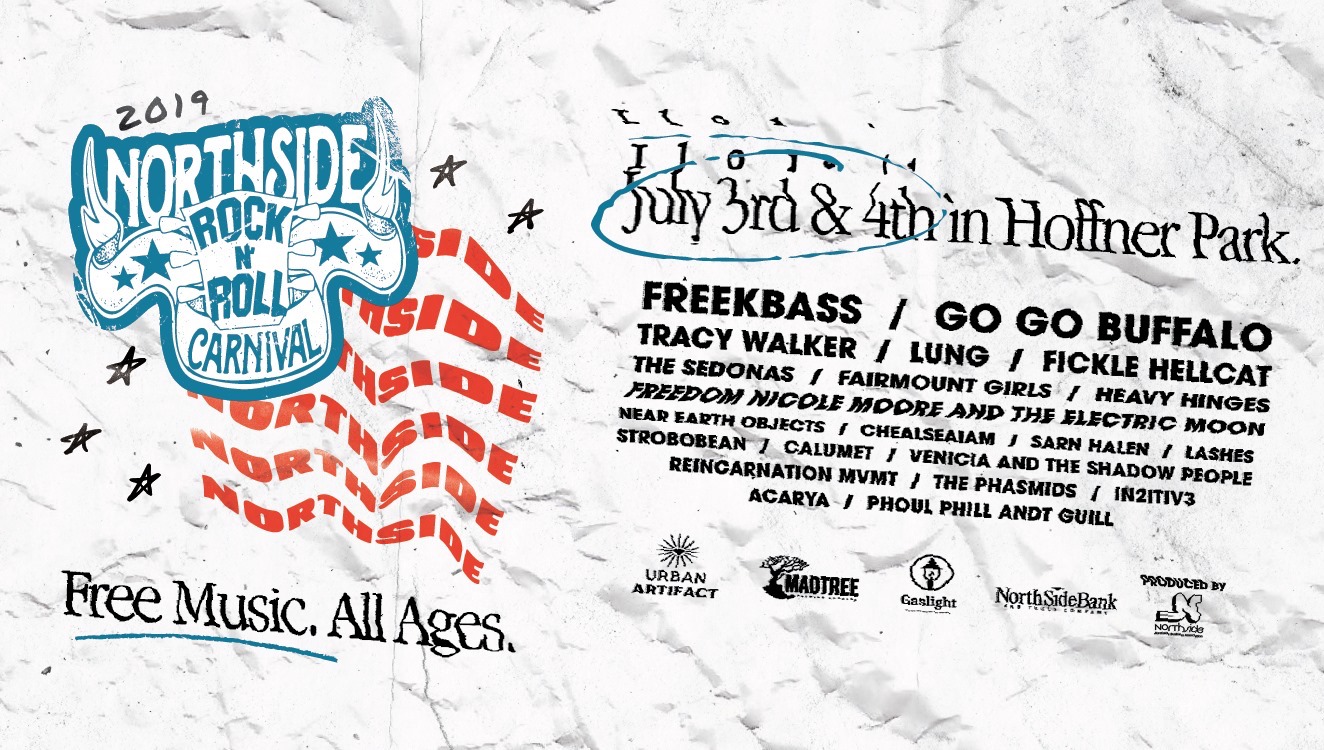 Boswell's – Cincinnati will be at Hoffner Park with breakfast fare 10am-12pm, set up near the shelter for Kegs and Eggs at the Carnival, where you can get a beer to go with your breakfast. The restaurant location will also be open at 11am offering a grilled out lunch picnic fare with two grills working in their courtyard.
Sidewinder Coffee is open 8am-4pm for your caffeine fix.
CAIN-Churches Active In Northside will have free glitter tattoos 10am-12pm, and free water bottles throughout parade, as well as a restroom and cooling station for anyone who needs it from 10am til the parade ends, all at 4230 Hamilton Ave.
THE COMET will be open at 11am with Mimosas, Bloody Marys, a full bar including a $2.50 beer bottles & cans pull & pray, plus the full food menu, and access to AC, restrooms, shade. Karrikin reps will also be onsite offering samples of their entire product portfolio of home made spirits and sodas.
NVISION will be open briefly before and after the parade for your last minute festive outfit and vintage browsing needs.
Thunder-Sky, Inc. will open at 10am for gallery viewing and parade watching with Robert McFate.
Morsel & Nosh is doing a 4th of July Pop-Up with a special menu of picnic Morsels for you to Nosh upon, open 11am- 4pm or until supplies last.
Tickle Pickle Northside will have Walkin' Waffles set up on their beautiful new patio from 10am-2pm.
The Kitchen Factory WINDOW will be open July 4th 11am-4pm, with pizza slices, sandwiches and plenty of vegan options.
Higher Gravity opens at 10am for their 4th of July Parade Watch Party
Ruth's Parkside Cafe will be open 11:30pm-9pm, serving their dinner menu, plus BBQ ribs, chicken; reservations will not be taken 1pm-6pm.
Melt Revival will be open from 9am-5pm, with prime patio seating for the parade.
Happy Chicks Bakery will be open 9am-12pm and will be offering ice cream push pops.
The Chocolate Bee will be open 11am-3pm with sweet treats from Chocolats Latour before & after the parade.
The Listing Loon: Beer/Wine/Live Music will be open at 11am offering $5 Bloody Marys and Mimosas plus Karaoke Fantastic all day after the parade, for 4th of July at The Listing Loon
Mixwells Northside will feature July 4th Drag & Burlesque w/ ODD & Smoke & Queers at Carnival with casts of Drag and Burlesque entertainers putting on an amazing show after the Parade with Showtimes between 2:30pm and 6pm and its all FREE to come watch and enjoy if your ages 21+, anyone under age will be charged only $5.
Urban Artifact will have the Northside Rock and Roll Sideshow at Urban Artifact
Northside Yacht Club is hosting NSYC Post-Parade 4th of July Extravaganza! with a $20 all you can eat option, face painting, karaoke and lots and lots of beer.
PLEASE NOTE: Hamilton Avenue will be shut down to vehicle traffic from 11:45am until after the parade, please plan accordingly, and as always, please be respectful of private property along the parade route and clean up after yourself.
BE SURE TO FOLLOW UP YOUR Northside 4th of July Parade WATCHING WITH THE The 2019 Northside Rock N Roll Carnival and buy some beer to help cover festival costs, rain or shine!