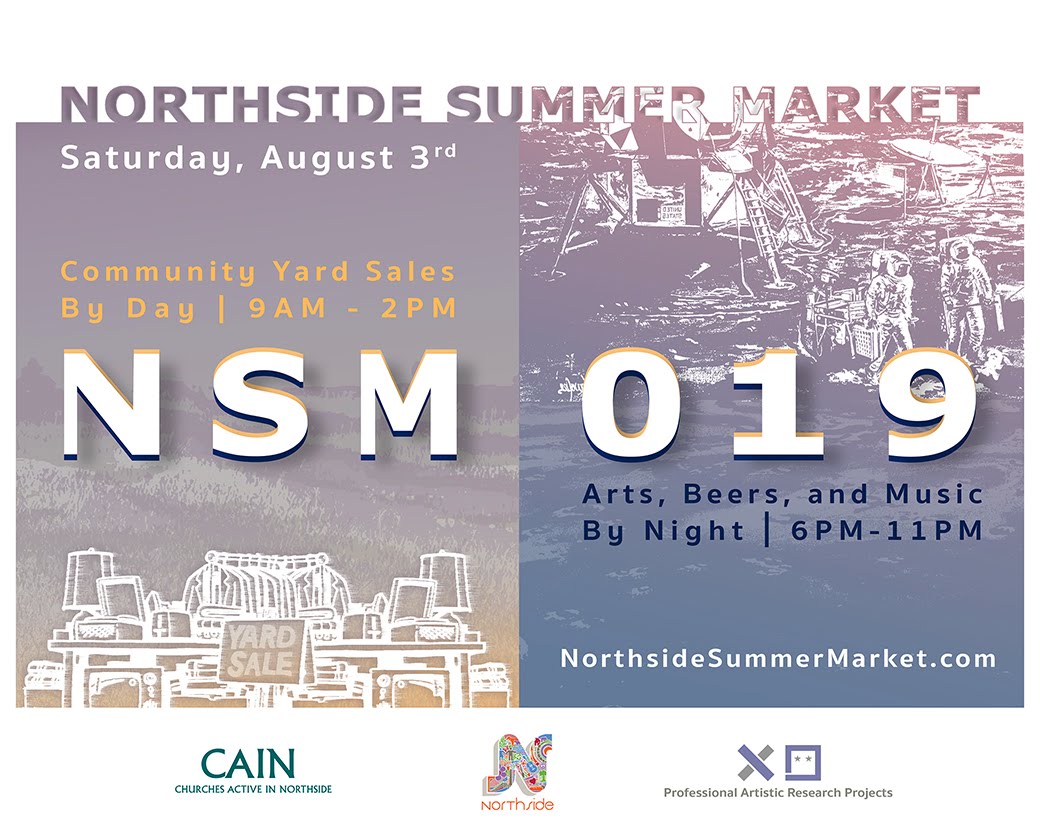 The World's Longest Yard Sale, a super fun, and super long, annual event, runs from Michigan to Alabama along the US-127 corridor, AKA Hamilton Avenue as it runs through our fair Northside!

The route spans 6 states (Michigan, Ohio, Kentucky, Tennessee, Georgia, Alabama) and is 690 miles long, and this year falls on August 1-4, 2019.
This year in Northside, on Saturday, August 3rd, yard sales will take place throughout the neighborhood, starting at 9am, with a central location at CAIN – Churches Active In Northside, 4230 Hamilton Avenue. If you are interested in registering your house on the map, or registering for a spot at the central location, click HERE.
BY DAY ~ 9AM – 2PM:
Northside Summer Market starts at 9AM with individual yard sales around the neighborhood, and Yard Sale Central at CAIN, 4230 Hamilton Avenue, running until 2pm. Guests will be able to pick up a map of the participating neighborhood-wide yard sales at the yard sale's central location.
From 11AM – 1PM, take advantage of CAIN's Cool Down Corner, at the central location from 11am-1pm. Enjoy a grill out with cold drinks, fresh fruit and FREE popsicles. There will also be kid's activities and a book giveaway.
BY NIGHT ~ 6PM – 11PM:
After a day of shopping the yard sales of Northside Summer Market, join in some art experiences, community mural painting, and LIVE Music in the Humble Monk Brewing Co. beer garden (opens at Noon), 1641 Blue Rock Street, across the street from Hoffner Park, where guests will find art booths, live music, good food and tasty beers!
Entry is FREE and you'll have the pleasure of enjoying:
Dusty Bryant Band (duo set) at 6:30PM
Tim'm West w/ DJ Rare Groove at 7:30PM
Knotts (duo set) at 8:30PM
The Tigerlillies at 9:30PM
Additionally, Mattson Barbecue will be slinging some of the best brisket, ribs, and sides in the city, while The Arepa Place will be taking care of your vegetarian needs & more!
Join in to celebrate the summer and raise funds for good. Proceeds from this event will benefit the community arts & education programming of PAR-Projects.
PAR-Projects' mission is to empower diverse communities of people who believe in the arts. As educators, we provide workshops & eight-week classes, related to career development & skills training. As working artists, we enjoy hosting thought provoking exhibits & collaborations throughout Cincinnati.
Professional Artistic Research (PAR-) Projects Inc. is a Cincinnati, Ohio-based 501(c)3 non-profit organization.