In October of 2022 the Northside Business Association received the Cincinnati Metro's Reinventing Metro Community Partnership Award at their annual meeting for our partnership to make the Northside Transit Center a reality!
Northside is the second largest active bus transfer point in the entire Metro system, trailing only behind Government Square in the Central Business District. Previously there were 3 significant transfer locations dispersed throughout the Northside Business District, forcing bus riders to walk between transfer points, standing way too close to the streets and enduring inclement weather. There was a clear need to consolidate bus transfer points.
Over the course of decades and in cooperation with the Northside Community Council, the Northside Business Association bought vacant lots and little-used parcels of land for future use as a bus transfer facility, with Metro purchasing the final necessary parcel from the Schott Monument Company. Once the parcels were transferred to Metro's ownership, the transit center was developed, with a new NBA-owned business district parking lot next to it.
The new Northside Transit Center opened in October of 2020. It connects routes 15, 16, 17, 19, 20, 23, 27, and 51 in a central, off-street location, and features 8 off-street transfer bays complete with canopies to protect against incumbent weather, as well as historical panels about our neighborhood, which are further enhanced by original art by Northside residents.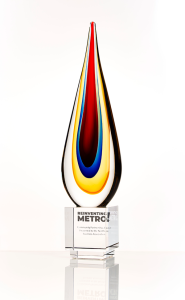 In the words of Tim Jeckering, NBA President, "I was honored to accept the award and could not be more proud of the recognition, and of the transfer facility. After a 19-year dance with Metro over where and how the Northside Transit Center would be built, I can say the new facility is only beginning to show its worth and add vitality to Northside. The Northside Transfer Hub will become exponentially more active as Metro expands its service into a regional system.
"I encourage you to visit the transfer facility, even if you are not a bus rider. I am sure you will be impressed by the rich history that Northside has contributed to Cincinnati."
Special thanks to photographer Matt Milburn at OMS Photo for capturing the Reinventing Metro Community Partnership Award!