Join Chase Elementary School in celebrating the talent of its students with a self-guided walking exhibition, featuring artwork by Chase students displayed in storefront windows in the Northside Business District, along Hamilton and Spring Grove Avenues, throughout the month of October!
Chase Imagination is a project that both highlights the creative talent of Chase Elementary School students, and draws art viewers to Northside's business district. Professional photographer, Bruce Bennett, took photos of Chase students in the classroom and the Northside community. These photographs can be seen in Bruce's solo exhibition, *Self Love*, at Sidewinder Coffee, 4181 Hamilton Avenue.
Drawing upon Bennett's photography as inspiration, Chase art teacher Samantha Messer worked with 4th, 5th, and 6th graders to create the digital photo collages seen in this walking exhibition during the 2020-2021 school year.
You can see the students' artwork on display in the storefront windows of participating businesses, on a self-guided walking exhibition (see map below and available as a brochure at participating locations):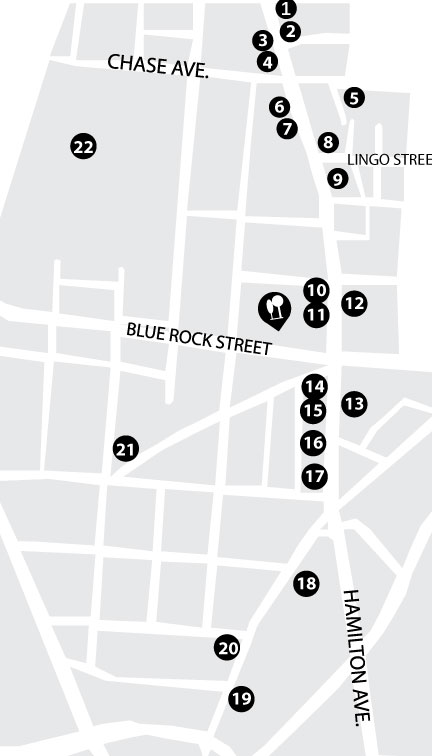 2 Hair Options
3 Happen's Make It Space
5 Supreme Styles Barber Shop Cincinnati
10 United Reliance
11 For Goodness Shakes and Juicery
12 Chameleon
13 Northside Yoga & Wellness Center
17 4007 Hamilton Avenue
19 Growing Trade Pet and Plant
20 – 22 Chase Elementary School
* A published booklet containing all of the artwork will be available for purchase at Sidewinder Coffee and Downbound Books, $12 each, to benefit the Chase Elementary PTO.
—
Chase Elementary is a neighborhood school and Community Learning Center offering an Arts and Culture program with connections to artistic and cultural resources provided by the Smithsonian Center for Education and Museum Studies.