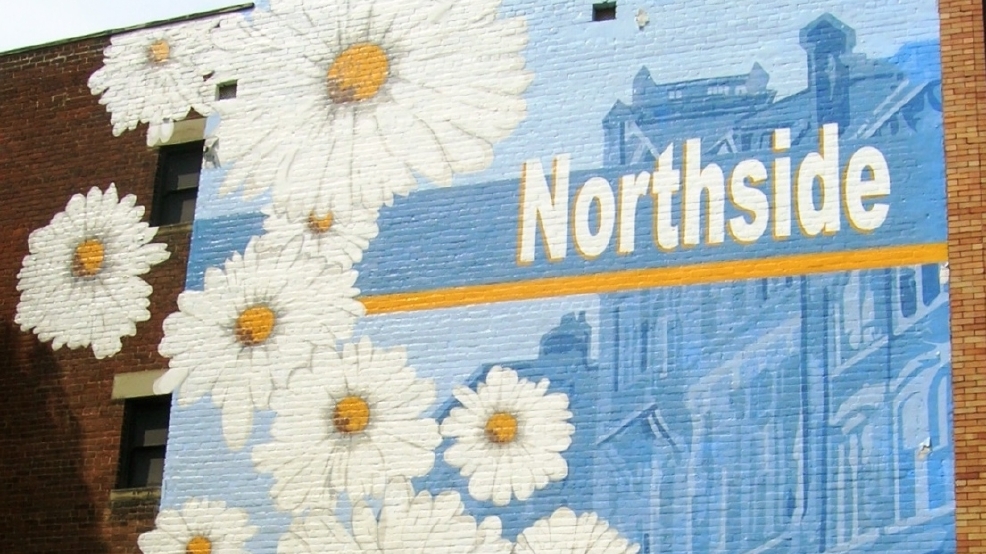 15 years ago, Cincinnati CityBeat published a cover story by Tony Cook, called "Upside to Northside: Cincinnati's most diverse neighborhood seeks to maintain its mix" (February 25, 2004)
READ IT -> https://www.citybeat.com/home/article/13020955/cover-story-upside-to-northside
"People have been calling it a neighborhood in transition, but for like 20 years now. Northside is Northside. There's always new shit happening, but a good part of it is staying the same, too. It's headed in every direction at once, or none."

– Andrew Jody, Northside resident in 2004, now regularly touring internationally with the band Barrence Whitfield & the Savages, who stands by his comment as still accurate today

HERE IS A COMPARATIVE OVERVIEW OF NORTHSIDE TODAY:
Northside not only has a reputation as an entertainment district, but as of 2018, Northside now has two officially recognized Community Entertainment Districts, as per the City of Cincinnati and Ohio's Division of Liquor Control.
Northside's mainstays have been serving the neighborhood, in continuous operation, offering a sense of community, personal service, humanity, libations and/or entertainment, including the North Side Bank & Trust since 1891, the Blue Jay Restaurant since 1967, Bonomini Bakery since 1976, Tattoo Designs By Dana since 1987, The Comet since 1995, Shake It Records since 1999, and Northside Tavern since 2002. These fave destinations are now joined by newer popular bar/restaurant/entertainment options like Northside Yacht Club, Chameleon, Melt Revival, The Littlefield, Second Place, and quite a few more.
Northside's main thoroughfare, Hamilton Avenue, still has its eclectic mix of appliance shops, storefront churches, hair salons, mattress stores, and tattoo parlors, alongside restaurants, bars and niche retail shops, dotted with alternately vacant and temporarily occupied storefronts. The Northside Business District is still very much in transition, especially challenged by the national rise in consumers choosing to shop online instead of in person, which also results in less foot traffic and incidental sales.
One of Northside's busiest intersections, at Hamilton and Chase Avenues, is still held down by Schaeper's Pharmacy (since 1985) where you can get prescriptions filled and grab basics (even beer and wine!), as well use their copy/fax machine, and even the UPS access point/package pickup station; H&R Block Tax Prep Office; Salon Gorgeous (in the former home of the long-standing Taylor Jameson Salon), now adjoined by micro-blading and nail service businesses next door; N.Y.P.D. Pizza (reliably offering pizza delivery & pickup to hungry Northsiders since 1987); the Kitchen Factory (serving pizza and vegan -friendly options as well as Northside's first incubator kitchen since 2013) and of course, Happen, Inc. offering free programs for kids and their parents in Northside since 2008 (founded in 1999). Happen, Inc.'s presence in Northside has expanded into its adjacent storefronts to include Happen's Toy Lab, and Happen's Make It Space, as well as develop new programs and those for teens including and Happen's Community Gardens, and Happen's Breadwinners, who design and print T-shirts, including 'Northside' and '45223' specific designs.
The 4000 block of Hamilton Avenue remains the most challenging block to develop into sustainable businesses, as it has seen the highest turnover of business comings and goings in the strip, and roughly half of it vacant or closed to the public. The current business makeup includes Albert's Beauty Supply, Ralph's Mattresses, Hero Gym, Beautiful Strands, New Spirit Oasis Community, The Hamilton, Collective Espresso, The Chocolate Bee, Happy Chicks Bakery, Tillie's Lounge, Joseph Clark Gallery/Arts of Africa, Skincraft Piercing-Tattoo, and WordPlay Cincy. Additionally, the Northside Business Association has recently acquired the former Wizards Computers building in the middle of the block, at 4024 Hamilton Avenue, in an effort to stabilize the massive structure before offering it up for redevelopment to a new owner or tenants. This important block of Northside's Business District will soon open up for further redevelopment possibilities, once the plan for the new SORTA/Metro transit center breaks actual ground (slated for sometime this year), and results in removal of the bus stop currently located on the corner of Hamilton Avenue and Hoffner Street.
Northside continues to be the second busiest Metro transfer location in the city, surpassed only by the Government Square stop downtown — 13,400 bus riders pass/stop through Northside each day! That volume of ridership at that particular street corner of Hamilton Avenue and Hoffner Street, has been problematic for both riders and residents, citing the lack of nearby restroom for bus riders transferring there, the city trash cans on the corner overflowing into the street, and merely a bench for bus riders, no cover from weather. The plan to move the bus stop at Hamilton and Hoffner has been in the works for years, with the combined efforts of the City of Cincinnati, the Ohio Department of Transportation, SORTA/Metro, and community organizations such as the Northside Business Association and Northside Community Council.
Northside's South Block, aka Spring Grove Avenue between Hamilton Avenue and Elmore Street, has seen the biggest net-positive changes over the past 15 years, with many of the historic buildings rehabbed and now occupied by newer businesses such as the Littlefield, Second Place, Visionaries & Voices, Growing Trade Pet & Plant, Sidewinder Roastery, Arcade Legacy, Cryptogram, FanMail, Mixwell's, Mahope, and, the longest-standing of them, Casablanca Vintage (since 1999).
The Myron G. Johnson Lumberyard was developed (albeit contentiously, mostly due to aesthetics, and of course, hotly debated talks of gentrification), and is now occupied by the newly constructed and LEED Silver Certified Gantry Apartments, offering 131 apartments. Its 8,000 sq ft of ground level retail space, currently includes the popular café Melt Revival as its anchor tenant, alongside new(er) business Higher Gravity, a bar and bottle shop, and rumor has it a new taqueria will start construction soon. From a 2016 article in (now defunct) The Northsider, "In 2006, the City of Cincinnati purchased the land parcel and the property sat vacant until 2012, when city council passed a motion to involve the community in the process of redeveloping the corner." The property the Gantry development project was completed on, was initially sold by the City of Cincinnati in 2014, to be developed by Milhaus Ventures of Indianapolis. The project was completed in 2016, and later sold in 2017 to Bellwether Enterprise Real Estate, LLC, of Cleveland.
The American Can building has since been redeveloped from an old factory into 110 New York-style loft apartments, and also houses the now popular Ruth's Parkside Cafe, the National Development Council Training Office, and Fisher Design, a lifestyle brand design agency, on the ground floor. The same development company, Bloomfield/Schon+Partners, also later developed the former Kirby Road School building at 1710 Bruce Avenue, into 40 loft apartments in 2013.
Northside got its first brewery in 2015, in the completely renovated St Patrick's Church on Blue Rock Street, just past Hoffner Park, which is now Urban Artifact, a craft brewery with a taproom, full bar, and live music venue. And just across the street from them is freshly opened Humble Monk Brewing, which occupies part of the Bertke Electric warehouse building.
In 2016, a new construction Senior Housing development was built in Northside at 1465 Knowlton Street, called Knowlton Place, offering 26 one-bedroom and 30 two-bedroom apartments for qualifying residents age 55 or older, who meet income requirements. From their website: "operated by Episcopal Retirement Services, Knowlton Place provides a clean, vibrant, and welcoming environment for qualifying seniors with limited incomes."
The former Off the Avenue Studios, an old factory building, is in the process of being completely rehabbed to current building codes by new owners who plan to open The Factory events space this year, in a similar tradition as its previous use, and still offering studio space to artists and small businesses. The building's previous owner, Maureen Wood passed away in 2017, but her spirit lives on in the many people and buildings she touched in her time as a Northside activist, property developer, and mother hen to Northside's gay, lesbian, and artist community.
The former beloved mom-and-pop ice cream shop, JF's Dairy Corner at the corner of Blue Rock Street and Colerain Avenue, is now owned and operated by Dojo Gelato, who continues to offer soft serve ice cream from its serving windows, in addition to its handcrafted Italian-style ice creams in their signature gelato flavors, now with a safer gated courtyard and additional seating.
Ace Hardware has since been sold to new owners, due to the passing of its owner Bill Dickhaus in 2014. Now called Northside Hardware, and now owned by the same family as Camp Washington Hardware (knowing their stuff since 1941), the space has been completely cleaned up, arranged in a more orderly manner that makes it easy to find what you need, but still maintains an old school hardware store feel.
Avant Garage, the vintage consignment shop next to the Comet, closed in 2007 and was replaced in 2008 with NVISION, another vintage consignment shop, joining more vintage shops in the business district, including the long-standing Casablanca Vintage, Chicken Lays an Egg (recently closed), and the recently opened Covet. As a result, the neighborhood offers a vintage tour, which is regularly shopped by Hollywood costumers' and set decorators' when movie productions are shooting period pieces in Cincinnati.
Sadly, Northside is still without a grocery shop, and hopes of getting one anytime soon are dashing. Over the past five years, community residents and leaders came together to build Apple Street Market Cooperative on the site of the old Save-A-Lot building at 4145 Apple Street; the property was recently acquired by NEST (Northsiders Engaged in Sustainable Transformation) to develop for this effort. Unfortunately, and very recently, due to unforeseeable setbacks regarding financing, the project is in a dire state. NEST will be responsible for moving forward to work with another developer on the site, should the market project fall through.
STILL TRUE—> Most of the commercial properties lining Hamilton Avenue's business district are locally-owned by individuals and small LLCs, with the only major corporate franchise presences being the KFC/Taco Bell, White Castle, United Dairy Farmers, and the three gas stations, BP, Marathon, and Shell.
STILL TRUE—> "The older, working-class generation (is) giving way to the younger, creativity-oriented generation — gentrification looming overhead while drug activity and crime hold it at bay."
NET LOSS—> Northside lost its tiny Post Office branch in the historic Hoffner Lodge in 2011 (the space is now occupied by Spun Bicycles, since 2013). The closest post office branches to Northside are in College Hill on Cedar Avenue, and on Ludlow Avenue in the Clifton Gaslight District, though the Corryville branch on Short Vine is the office that you deal with for local distribution issues as Northside's mail processes through this station.
STARKLY DIFFERENT—> Inexpensive housing is less and less accessible in Northside. In 2004, the median single-family home was $65,400, max sale price was $239,800, while the 2004 citywide median was $116,700, max sale was $2,379,000. By comparison, in 2018, the median single-family home was $193,00, max sale price was $445,536, whereas the 2018 citywide median was $152,000, max sale was $3,400,000.
Crime is significantly down since 2004, in part due to the arrest and incarceration of many of the Northside Taliband gang, whose nefarious activities and subsequent arrests led to charges of murder, burglary, robbery, assault, and drug trafficking. However, there has been a rise in theft from cars.
Cathy Fletcher, quoted in the 2004 article, was then the president of the Northside Business Association, and today remains a board member of the NBA, as well as long-time resident, investment property owner, and realtor. Tim Jeckering, quoted in the 2004 article as president of the Northside Community Council, is currently president of the Northside Business Association, as well as long-time resident, business owner/architect, and investment property owner. Both continue to be proponents for smart development in Northside.
The Northside Comprehensive Land Use Plan was completed in 2006 (updated in 2013), by hundreds of Northsiders, including long-time and new residents, business owners, property owners, school principals, parents, and interested developers, as a means to provide a clear picture of Northside's vision for the future, and the strategies and implementation measures, that will be used to achieve this vision. This plan serves as a critical guide for all the decision-making aimed to encourage Northside's holistic growth and sustainability.
IN CONCLUSION… welp, draw your own, Northside is…what you make it!