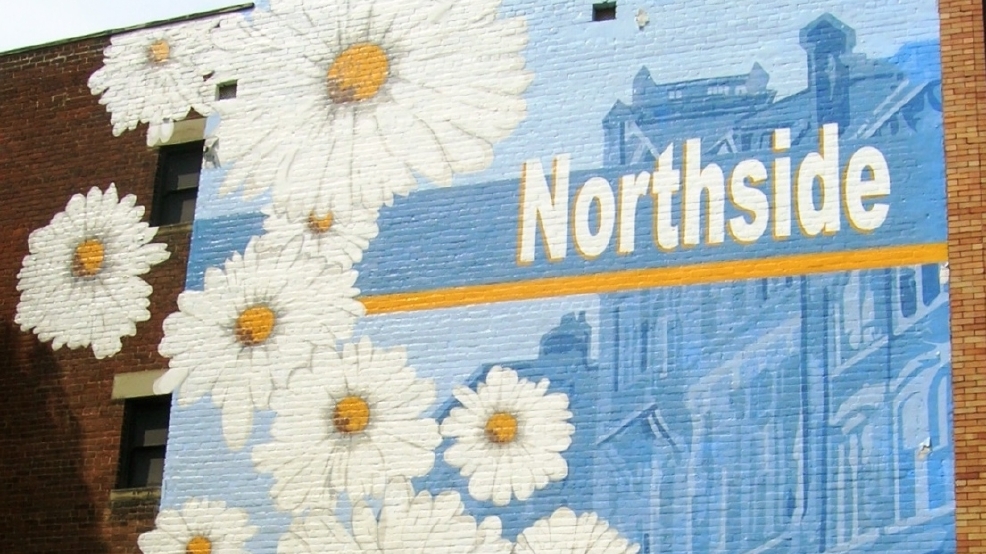 –>To contribute to the restoration of the "Northside Blooms" Mural, click here: https://www.gofundme.com/save-the-daisies
This three story backdrop to Hoffner Park, located in the heart of the Historical Northside Business and Entertainment District, is the most recognized image representing the Northside Community.
The Northside Blooms mural is among the most photographed and shared images of this living, working, and thriving neighborhood of Cincinnati, Ohio, by visitors and tourists from all over the world. To the local residents of Northside, it represents the rebirth of what was once a struggling district some 30 years ago. The mural was originally dedicated in 2007 as a symbol of the years of hard work and reinvestment into the community by local residents and business owners, thanks to Artworks Cincinnati.
In recent years the mural has deteriorated through weather and age and is in immediate need of a full restoration before the original image is lost forever. Our community is banding together and reaching out to raise the necessary funds for a complete and full restoration during the Summer of 2018. This project is completely non-profit with all proceeds going directly towards the restoration of the mural. Any funding over and above actual costs will be donated to the local non-profit organizations that have engaged in the fundraising and restoration efforts of the mural to support their charitable works in the Northside community.
Northside Blooms reflects the rebirth and spirit of Northside and should be preserved as proof that the hard work and commitment of residents and business owners has grown into something truly beautiful.
For those of you who have never visited Northside, we welcome you to stop by any time! Experience for yourself what a truly open, friendly and flourishing community is like.
Thank you for your contribution toward our effort to "Save the Daisies" and keep this iconic image alive.
–>To contribute to the restoration of the "Northside Bloom" Mural, click here: https://www.gofundme.com/save-the-daisies