LIVE MUSIC • ART OPENINGS • WORKSHOPS • RETAIL SPECIALS • FUNDRAISERS • FOOD + WINE + BEER EVENTS • COMMUNITY


Ohio Explored Holiday Maker Mart at Urban Artifact
December 3, 2017 @ 1:00 pm

-

6:00 pm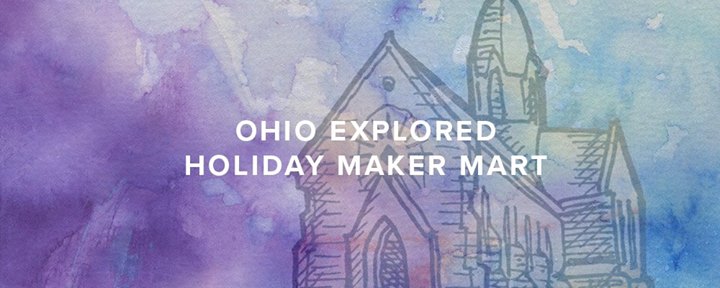 Holiday Market featuring 100+ Incredible Ohio Made crafty vendors!
Early Bird Entry Noon – 1pm
Free Entry 1pm – 6pm
All Ages Welcome
Shop local with 100+ artisan makers at Ohio Explored's Holiday Maker Mart at Urban Artifact and Chase School in Northside, Cincinnati on December 3rd, 2017.
Ohio Explored's Holiday Maker Mart, a curated holiday market, will feature over 100 local artists and makers from across Ohio. Explore Urban Artifact's beautiful sanctuary & taproom on December 3rd during this modern holiday craft fair.
At this highly anticipated new event, you will find artisan crafts, ceramics, fine art, glass, jewelry, home goods, knits, paper goods, natural products and many more hand-crafted holiday gifts! Foodies will be happy to find Ohio's best food trucks, locally made treats, and craft beer available throughout the event.
Enjoy live music while shopping directly with local artists. Meet each of the Ohio-made vendors while browsing thousands of artisan crafts. Ohio Explored's Holiday Maker Mart will be the perfect place to buy all of your holiday gifts while supporting Ohio artists. Skip the lines and get exclusive early access with Early Bird Tickets.
See our Ohio Vendors on our website at https://www.ohioexplored.com/ohiomakermart
Buy $10 Early Bird Tickets Here: https://www.ohioexplored.com/products/ohio-explored-holiday-maker-mart-early-bird-pass
2017 Ohio Explored Holiday Maker Mart Vendors
A Stylish Design
Alyssa Rae Art
Amanda Bialk
Amy Bryce Watercolors
Amy Giglio Art
Aura Sensory
Backyard Living
BAQETTE
Barefoot Girl Soap Company
Bella Studio
Bend Active
Blue Bubble Soaps
Boundary & Thorn
Cate's Cookie Kitchen
Cincinnati Card Co.
Cincy Shirts
Clayflower Studios
Crooks and Coffee
Cypress Skin + Beauty
Daisy Mae Designs
Deep Valley Crafts
Eleventh Candle Co.
Eliza Dot Design
Ellebrux
Fat T's Cookies
Felix Coffee
FERN Shop
Friendly Candle LLC
Garden 22 Candle Co.
Gardenhouse Pottery
GEMZwithZEN
Gia and The Blooms
Ginger Bee Limited
Glam & Grace
Glass Sky Jewelry
Glitteracy
Go Magnetic North
Good Human
H&B
HandHeld & Company
Happy Groundhog Studio
Hazy Paper Co.
Hickory Twine
HLOS (Hand Lettered Old Shit)
Honey Sweetie Acres
Humble Hive Homemade
Ink & Co. Made in Ohio
Inked & Dotted
Jennifer L Worden Arts
Karuna Beading Company
Katy Ryan Designs
Keep It Simple Socks
Kuddle Bumz Designs
LadyNoelDesigns
Lather and Stitch
Leigh Cox Illustration
Leigh Ellexson Art
Lil's Bagels
Linnea Campbell Ceramic Art
Linnea Head Art
Lisa Robin Jewelry
Little Critter Plushies
Little Sky Stone
Loretta's Jewelry Created with Good Intentions
Lucca Laser Workshop
Lula Bell
M. Hopple & Co
M.A.D. by Merritt
Macaron Bar
Mae Honeybee
Mandalynn Designs
Manitou Candle Co.
Map Republic
Matthew Zory Photography
Moxie Made Co.
MRLY
My Momma's Kitchen
Native State
Natterdoodle
Nelly Packs
Nija Foods
OBTLove
Off The Beaten Path
Oh Little Mustard Seed, LLC
Onion Run Designs
Paints and Peoples
Pälish
Peach Peony Co.
Pied Paper Goods
Pinwheel Print Shop
Pokeycan
Poor Sparrow
Posy Prints
Pouf Cotton Candy
Questionable Press
Raindrop Rocks
REVIVAL
Rewined Designed
RheinoCeramics
Ridiculously Good Salsa
Rock Salt Vintage
Rust Belt Pepper Co.
Sara Sela Jewelry
Sarah Harste Weavings
Screaming Goat Paper Company
SE Designs
SEA and SALT
Seaworthi
SEEL
Silvermoon Cantina
Skin Food
Skip Rock
Smartfish
Snuggle Studio
Stitches & Sass
Sugar Swank
Sweet Stella Designs
Tablespoon Cooking Co.
Thankful Knits
The Boutique Truck
The Northern Market
The Rivertown Inkery LLC
The Tart Peach
The Third Arrow
Tiny Violet Shop
TL Yarn Crafts
Totally Tangled Creations
Touch of Herbs,LLC.
Wander and Wonder Co
Westlake Craft
Whirlybird Granola
White Oak Art + Design, LLC
Whittler & Wench
Winks and Whiskers
Wonder Lust Concepts
7THIRTY8 Apparel
937 Designs