LIVE MUSIC • ART OPENINGS • WORKSHOPS • RETAIL SPECIALS • FUNDRAISERS • FOOD + WINE + BEER EVENTS • COMMUNITY


Invasion of the Bougie Black Barbies, art by Kandice Odister
July 22, 2017 @ 6:00 pm

-

10:00 pm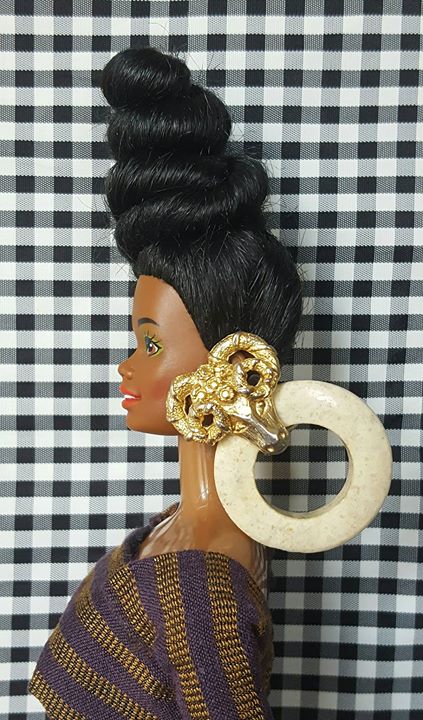 Please join us for the opening reception for a new art exhibit at NVISION featuring hand-styled vignettes created and photographed by Kandice Odister.
+ Music by DJMCMLXXIII and refreshments
KANDICE ODISTER is a mother, conceptual artist and visual designer from Trotwood, Ohio, now based in Cincinnati.
The artist combines two series for this show, "Bougie Black Barbie" and "Invasion of the Colored Barbies."
The first series, "Bougie Black Barbie," began in 2015 when she rediscovered her childhood collection of Barbie dolls stashed in her girlhood bedroom.
As a young girl, inspired by her mother's fashion magazines, Kandice started designing and creating clothing for her Barbies using fabric scraps, old slips, and lingerie her mother gave her. Along with their one-of-a-kind clothing, Kandice would create elaborate back stories for each doll. To the dismay of her friends, she continued designing and producing stories for her Barbies through her 8th grade year.
In 1991 the final doll was added to her collection: Rappin' Rockin' Christie, who stars in the "Bougie Black Barbie" series. Precocious, black, adventuresome and freakishly creative, the "Bougie Black Barbie" series personifies the artist, featuring Christie on large-scale, digital-printed canvases. From inception to the final staged photograph, Kandice is a one-woman glam squad. She styles, creates vignettes and photographs Christie—all based on Kandice's daily routines—wearing clothes designed and up-cycled from items destined for the throw-away pile.
The second series, "Invasion of the Colored Barbies" was borne from aggravation.
Kandice was clipping images of fashion models of color from magazines such as Vogue, V Magazine and Elle, when she realized there were so few she could count them. Dissatisfied, Kandice started using four of her brown-colored Barbies' heads to create an army—a literal invasion–within the pages of high-end fashion magazines.
Together, the two series aim to inspire more true-to-life representations of women of color within the fashion industry, and to kindle the imaginations of young women by "seeing themselves" within the pages of fashion magazines.
* On display through September 3rd.