LIVE MUSIC • ART OPENINGS • WORKSHOPS • RETAIL SPECIALS • FUNDRAISERS • FOOD + WINE + BEER EVENTS • COMMUNITY


FREE! Tax Filing
April 17, 2018 @ 10:00 am

-

12:00 pm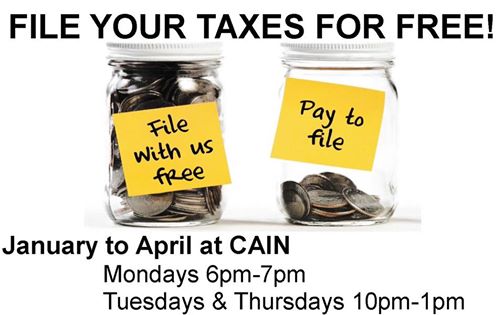 Keep your WHOLE REFUND!!
Mondays 6pm-7pm
Tuesdays and Thursdays 10am – 12pm
WALK IN ONLY
FIRST COME – FIRST SERVED
CAIN
Churches Active In Northside
4230 Hamilton Ave.
513-591-2246 ext. 2
Cincinnati, Ohio 45223
**Returns that include the EITC will be processed by the IRS NO EARLIER than February 23
What to bring for your Income Tax Preparation Session
– LAST YEAR'S TAX RETURN, If you filed last year (Otherwise, we can help, but your return(s) must be mailed, and cannot be filed electronically.)
– Photo ID for you and your spouse (both must be present)
– Social Security cards and birth dates for you, your spouse and dependents
– Bank routing # and your account # for direct deposit
– Income related items
o All W-2's, 1099's and other information regarding your income in 2016
o All 1095 Healthcare forms
– 1095-A, if your purchased Health Insurance through the "healthcare marketplace"
– 1095-B or 1095-C, if you were covered by an employer, VA, Medicare or Medicaid
– Expense related items
o Student account statement 1098-T for those who attended college or technical school
– Information regarding deductions/credits including charitable contributions, home expenses and unreimbursed medical expenses
Northside NOW
THE SELF SERVE LINK AVAILABLE! https://selfserve.thebenefitbank.org/ums?partner_code=424
Use The Benefit Bank for fast, easy, FREE tax filing! Our expert system makes accurate calculations and asks the right questions to find the most income deductions and tax credits for you. File and enjoy freedom from predatory Refund Anticipation Loans. E-filing is available in select states. Please note that if you are married and filing a joint return with your spouse, you must have an adjusted gross income (AGI) of $95,000 or less to use our online service. If you are not married or not filing jointly with your spouse, you must have an AGI of $65,000 or less to use our online service.